If you'd like to work or retire in Greenville, SC, you're in good company! Thousands of new residents flock here each year to enjoy our amenities and lifestyle. This article presents 15 steps to consider as you plan your move.
This article covers these areas:
Researching home prices, rent, & the cost of living
Budgeting for your new Greenville, SC home
The name of the game: Location, location, location
Greenville's great neighborhoods & communities
Researching Home Prices, Rent, & the Cost of Living
Doing the homework can help you make informed decisions about your budget and where your ideal neighborhood lies. So, these items should help with your research:
1. Use online real estate websites.
Zillow,
Redfin,
and
Realtor.com
provide information on local home prices, rental prices, and living costs. You can further filter your search by location, home type, and price range, as well to understand what is available in the area.
2. Check local newspapers.
The
Greenville News
offers its Homefinder section with information on recent home sales, rental prices, and living costs in the area. Watch for rental listings and advertisements for home sales.
3. Visit local real estate offices. Speak with a real estate agent who can provide information on the area's home prices, rental prices, and living costs. They may also have access to exclusive listings not available online.
4. Use cost-of-living calculators.
Online calculators, such as those on
Bankrate
or
NerdWallet,
can help you compare the expense of living in different neighborhoods (property tax, insurance, etc.). You can enter your current location and income and compare it to Greenville's.
5. Check government websites.
Greenville's local government
has information on property taxes and other fees associated with owning a home in the area. It also has data on median household income and additional demographic information.
Budgeting for Your New Greenville, SC Home
When budgeting for a new home, it's essential to consider both the upfront costs and the ongoing expenses associated with home ownership. Here are some steps to help you create a budget:
6. Create a budget.
Start by calculating your current monthly expenses and income.
Plan for ongoing expenses. After purchasing your home, you'll have ongoing expenses such as utilities, maintenance, and repairs (as well as possible homeowners' association fees).
Prepare for unexpected expenses: Sudden costs, such as emergency repairs, can arise. Setting aside funds for these situations ahead of your need can prevent going into debt while continuing to pay your ongoing housing costs.
7. Determine how much you can afford.
Once you have estimated your expenses, you can begin projecting how much you can afford monthly for mortgage payments, property taxes, insurance, utilities, maintenance, and other costs.
Consider the upfront costs. Buying a home includes the down payment, closing costs, and moving expenses. It's best to save for these expenses before you make any purchases.


8. Speak with a Mortgage Loan Officer.
Next, find out what you can safely spend on a new home. A loan officer can help you estimate your monthly mortgage payments based on different interest rates and down payment amounts.
9. Stick to your budget.
Avoid overspending and potential financial difficulties. Keep track of your expenses and adjust your budget to stay within your means.
Global View's team of fiduciary investment advisors can help you consider all the financial aspects of your pending move.
The Name of the Game: Location, Location, Location
When considering your commute to work, schools, parks, and any amenities important to you, it's essential to take a holistic approach. This part of our list should help:
10. Determine your priorities.
Start by listing your preferences, including your preferred duration for a commute to work, schools, parks, retirement community access, and other amenities. Determine what's important to you and where you are willing to compromise.
Look into school districts. If you have children, check the schools' performance ratings, teacher-to-student ratio, and extracurricular activities.
Consider nearby parks and recreational facilities. If you enjoy spending time outdoors, check for local amenities like hiking trails, bike paths, sports fields, and playgrounds.
11. Research transportation options.
Commuters here can choose from public transit, biking and walking trails, and freeways. So, consider the time and cost of each option alongside how they could fit into your daily routine.
12. Check the availability of retail stops and health care.
Consider amenities also, such as grocery stores, restaurants, shopping centers, and entertainment venues.
Greenville's Great Neighborhoods & Communities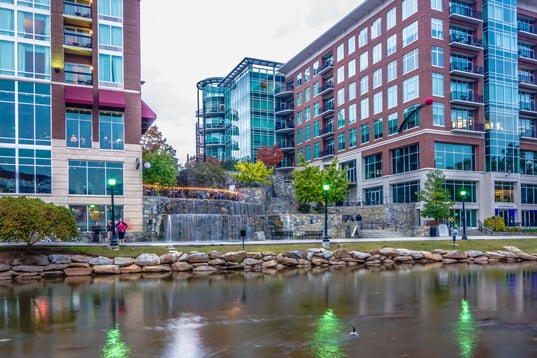 Researching local shops and activities can give you a better understanding of the various neighborhoods, helping you determine the best fit:
13. Use online search tools.
Yelp, Google Maps, or TripAdvisor can be useful for researching local shops, restaurants, and activities in the area. Look for highly-rated establishments, but read reviews from other patrons, as well.
14. Check social media
: Platforms such as Facebook and Instagram can be useful for seeing what local businesses and residents share about the neighborhoods you're considering.
15. Visit the area.
If possible, visit first in order to explore the neighborhoods, schools, and amenities. This can give you a better, more firsthand sense of the places you're evaluating.
Attend local events. Regional happenings, such as festivals, farmers' markets, and concerts, can convey a sense of community. You could meet friendly locals and get a good feel for the atmosphere of the various neighborhoods you visit.
That's it. You've reached the end of our list. At the same time, you've already made a potential friend in Greenville: Global View is ready to be your fiduciary financial advisor in Greenville, SC. Contact us to learn more about working together to optimize your retirement income.
If you aren't sold on Greenville yet, CHECK OUT THIS LIST of Greenville's charms: