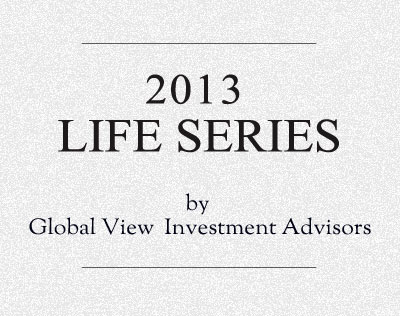 Last Thursday marked the end of the 2013 Life Series presented by Global View. It was another success this year as we had more attendees than ever before. A big reason this year was so successful was the quality of our speakers. Our attendees were able to take home some very important knowledge and information on a variety of subjects.
In our first event, Kurt Schumacher of Schumacher Law discussed the advantages of proper estate planning and the effectiveness of well-designed trusts, while Bruce Meyer with Always Best Care Senior Services conferred the importance of planning for senior living and the various options for living and care that are available.
In our second event, our very own Joey Hines explained the rules and terminology of social security while outlining several strategies that can help get the most out of the designated benefits. Afterwards, Loretta Hartzell of Hartzell & Associates detailed the uses and benefits of Medicare as well as the Medicare enrollment process, while offering insight on Medicare supplement plans and other private insurance options.
In our final event, Bill Dingledine of Education Directions conveyed the importance of early college planning and finding a good fit for students. Dingledine also explained some of the components important to gaining admission into schools and the best ways to get the most from any college experience. Lastly, Daphne Dawson of the University of South Carolina-Upstate Campus, detailed the factors that influence a student's eligibility for financial aid, and how the offered amount is calculated.
In closing, we want to say a special thanks to all of our speakers for providing excellent insight , to the Thornblade Club in Greer for hosting our events, and most importantly to those of you who joined us and whose questions and input made for a lively and informational collaboration. It was a great experience, and we hope to make it even better next year.
For more information on the topics discussed or event materials and handouts please contact us at 864-272-0818.
For information on upcoming events please visit our events page.