We are happy to announce that we will be continuing our Annual Life Series events this year! First up will be the Education event coming in September! This event is designed to help parents with children in grades 7 – 12 answer the tough questions on higher education and help prepare them to make the right decisions on school choices, funding, and savings strategies.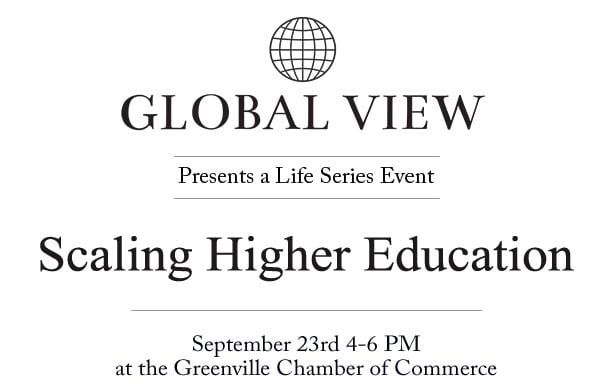 TOPICS INCLUDE:
Helping Your Child Find Their Education Path
Bill Dingledine, Education Directions
Are Grades or Extracurricular Activities more Important?
What school is right for your child?
Getting the most out of college
Helping them through the Admission Process
Important Dates
What Every Parent Needs to Know! College Financial Aid 101
Mehul Shah, CPA
Types of Financial Aid
Applying for Financial Aid
How Financial Aid is Determined
Increasing Financial Aid Eligibility
Avoiding the two Biggest Mistakes
Timeline
Saving Strategies and Implications
Stephen Gary, Global View Investment Advisors
What vehicles to use? ESA, 529, Roth IRA, IRA, etc...
Tax Benefits and Limitations
Prioritizing Savings
How Global View does it
For more information on our speakers or to contact them directly try;
Bill Dingledine
Education Directions
(864) 467 – 1838
Mehul Shah, CPA
Mehul R. Shah, CPA, LLC
(864) 881 – 1040
Stephen Gary
Global View Investment Advisors
(864) 272 – 0818
Please RSVP by calling 864-272-0818 or email us at admin@globalviewinv.com. Feel free to bring a friend. We hope to see you all there.