Retirement should be about comfort, and if you are one of the lucky retirees set to do so in Greenville, South Carolina, you can count on some of your best years still being ahead of you. From bustling downtown Greenville to the gorgeous Blue Ridge Mountains, there are few places in the U.S. that are more comfortable to retire to. The South Carolina climate is second to none, the food is great, and housing costs and the cost of living are very friendly toward retirees.
If you are still on the fence about retirement, or you're considering retiring to Greenville and are unsure, this blog will cover all of the following and hopefully provide some clarity to your decision-making process:
The resources available for seniors

The healthy and active lifestyle in Greenville

Quality healthcare

Finding the right financial advisor and getting help from a CFP with your financial planning

The low cost of living
The Benefits of Retiring in Greenville
Making sure that wherever you retire is friendly to seniors and retirees should be close to the top of anyone's retirement checklist. For those who are blessed enough to retire in Greenville, they need not worry about it though, as our city is very friendly towards its seniors.
For those retiring or planning to retire in Greenville, they will be delighted to know that housing expenses are 28% lower than the national average, utilities are 3% lower than the national average, and transportation expenses such as bus fare and gas are 9% lower than the national average.
Overall, the cost of living in Greenville is 10% lower than the national average, making it a desirable place for anyone to live, especially retirees. With its affordable homes and property tax well below the national average, the Greenville housing market is affordable and reasonable in cost.
Retiring in Greenville has plenty of advantages besides its low taxes and affordable cost of living. Greenville is conveniently located between other major cities like Atlanta, Charlotte, Asheville, and Columbia, making it a prime spot for short road trip destinations.
The city itself is close to the beautiful Blue Ridge Mountains, and although we have all four seasons here, the winters aren't so bad, with less than 5 inches of snow annually. While it does get a bit humid in the summer, it is the South, after all. The weather here is hard to beat, as you can look forward to sunny days about 220 days out of the year. The temperate climate is hard to beat, and it allows for outdoor activities throughout the entire year.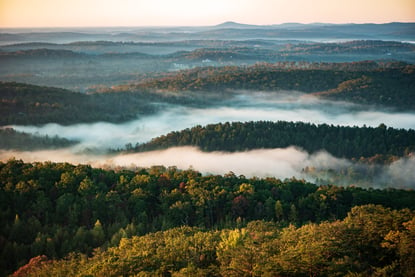 For those who love to eat, Greenville has been called the "Next Big Food City of the South" by Esquire magazine and graciously named one of "The South's Tastiest Towns" by Southern Living. With no shortage of restaurants downtown, if you enjoy dining out, Greenville is the town for you.
If you do eat a bit too much, Greenville is known for being an active and healthy town whose temperate climate allows you to enjoy the outdoors all year round. There are a wealth of nature preserves, state parks, wilderness areas, and hiking and biking trails around Greenville, not to mention the gorgeous Blue Ridge Mountains. Both the Great Smoky Mountains National Park and Myrtle Beach are a short drive away too.
Resources Available for Seniors
There are plenty of resources available for seniors in Greenville should any sort of need or emergency arise. There is no shortage of senior living communities, and the standard of care is top of the line.
Greenville also has some of the best healthcare services and facilities in the entire state of South Carolina, if not the whole Southeast region. Two of its major hospitals, Greenville Health System (GHS) and Bon Secours St. Francis, offer top-of-the-line medical care and level-one trauma and cancer centers.
Bon Secours St. Francis was recognized in 2021 as a "Best Hospital" by the U.S. News & World Report. The hospital's two campuses, St. Francis Eastside and St. Francis Downtown, were ranked 2nd in the entire state of South Carolina, as well as the first overall for Greenville and its surrounding area.
The healthcare costs in Greenville are also 2% lower than the national average.
Finding the Right Financial Advisor
While this may have seemed like a sponsored advertisement from visitgreenvillesc.com, we would not be doing our due diligence as financial advisors in Greenville, SC, if we did not bring up the topic of financial and retirement planning.
While our beautiful city is just that, as fiduciary investment advisors, we want to see our clients be able to retire comfortably so they can enjoy all of the great things our wonderful city has to offer.
As Certified Financial Planners, we are held to a high fiduciary standard, and always have our client's best interests in mind. Retirement planning can be strenuous, as can choosing the right financial professional to work with.
At Global View, we are a fee-only fiduciary financial advisor firm. This means that, unlike other advisors who receive commissions from selling financial products and investments from third parties, we receive zero commission in any sort of form. We get paid in fees, just as you would pay your accountant or attorney.
We value transparency and abide by the high suitability standards that come with our fiduciary duties to our clients. We value our client relationships, and most of our clients elect to pay for ongoing investment management services as opposed to a one-time or annual fee.
As registered fiduciaries, we are required to serve our client's best interests at all times and have always done so. If you are planning on retiring in beautiful Greenville, South Carolina,
contact one of our CFPs today
to see how we can help make the process as smooth and efficient as possible.