Did you know the cost of living in Greenville, SC, is 9% below the national average? Housing costs are a whopping 28% below the norm, and transportation clocks in at -10%. Healthcare, utility, and grocery costs are also below the national average.
Greenville is a great place to live and offers excellent retirement opportunities. At Global Investment Advisors, we feel lucky to live and work here. That's why we're happy to share the reasons why so many affluent seniors retire here.
This article discusses these topics:
Greenville, South Carolina: a place of comfort & opportunity

Reasons to retire in Greenville & enjoy the low costs

Savvy ways to maximize your retirement savings

Resources to help you make the most of retirement here
Greenville, South Carolina: a Place of Comfort & Opportunity
Founded in 1786, Greenville is the state's third-largest urban area and one of the South's fastest-growing cities. Through enlightened local leadership, downtown Greenville has become a busy nexus for business, shopping, and dining.
The city also boasts a thriving retail, arts, and restaurant scene, enhanced by easy walkability and a pleasant subtropical climate. No wonder Conde Nast Traveler gave Greenville a Readers' Choice Award as one of the nation's best cities.
It's hard to be the local standard of living, as well. Here are some of the median prices provided by Payscale.com:
| | |
| --- | --- |
| Home Price | $322,403 |
| Monthly Rent | $980.27 |
| Monthly Energy Bill | $172.22 |
| Monthly Phone Bill | $185.27 |
| Gallon of Gas | $3.07 |
| Doctor's Visit | $121.91 |
| Dentist Visit | $105.18 |
| Optometrist Visit | $114.84 |
| Veterinary Visit | $59.86 |
| Loaf of Bread | $3.83 |
| Gallon of Milk | $2.40 |
| Carton of Eggs | $2.22 |
| Bunch of Bananas | $3.31 |
| Hamburger | $5.06 |
Reasons to Retire in Greenville & Enjoy the Low Costs
Located strategically located halfway between Atlanta, Georgia, and Charlotte, North Carolina, Greenville has much more going for it than low costs alone.
In fact, people retire in Greenville, SC, for many reasons:
Welcoming weather.

The comfortable climate features average temperatures of 34°F to 53°F in January and 71°F to 90°F in July. Snow is negligible, averaging just 3 inches yearly, well below the national average of 28 inches. Expect 51 inches of annual rainfall.
Delightful food and drinks.

The city boasts dozens of top-rated restaurants. For example, Soby's New South Cuisine is a Main Street landmark known for its great food and service. Greenville has several local breweries and bars, ranging from sophisticated to cozy. You can sample more than 120 whiskeys and cocktails at the NEAT Bourbon Bar. Many of the city's best hotels also feature lively bars and restaurants.
The shopping

: Downtown Greenville and its surroundings offer every type of shopping, from boutique to everyday. Main Street, by itself, is lined with stores offering fashions, jewelry, gifts, and everything else you'd expect in a thriving city. The Haywood Mall and Woodruff Avenue offer even more shopping alternatives just minutes from downtown.
Family entertainment

: A first-class Symphony Orchestra performs at the city's modern Peace Center. We have several museums as well, including the Upcountry History Museum, Sigal Museum, BMW Zentrum, and the Roper Mountain Science Center. The Greenville Zoo occupies 14 acres of naturalistic habitat for lions, giraffes, primates, birds, and reptiles. Popular music venues offer jazz, hip-hop, country, pop, and rock, and the city enjoys a steady stream of big-name artists. We are proud of our baseball team, The Drive, an affiliate of the Boston Red Sox and a High-A East league member. Hockey fans can cheer on the Greenville Swamp Rabbits, one of the founding members of the East Coast Hockey League.
Parks and recreation

: Falls Park on the Reedy River attracts nature lovers to the Downtown's Historic West End with its wide variety of activities that everyone can enjoy. The 22-mile Swamp Rabbit Trail connects Greenville to nearby Travelers Rest and attracts walkers, runners, and bikers. Cleveland Park has tennis and volleyball courts, a softball field, a fitness trail, and playground areas. Other enticing venues include

McPherson Park and Paris Mountain State Park.
Savvy Ways to Maximize Your Retirement Savings
In addition to its other perks, Greenville is located in one of the most tax-friendly states in the nation. The fact that South Carolina imposes no tax on Social Security may be what makes us so attractive to affluent retirees: Residents over the age of 65 can deduct up to $15,000 from their state income taxes. You can apply that deduction to all types of retirement income, including IRAs, 401(k)s, and pension plans.
Property taxes here are also among the lowest in the United States. In fact, residents of retirement communities pay zero property tax. Seniors who've lived in the state for more than a year receive a homestead exemption, as well. This exempts them from property taxes on the first $50,000 of their home's value.
Meanwhile, Greenville has more than its share of world-class healthcare and wellness facilities. These include the Bon Secours St Francis Health System and the Prisma Alliance. There's no shortage of age-friendly fitness centers and nutritionists throughout the area, either.
Resources to Help You Make the Most of Retirement Here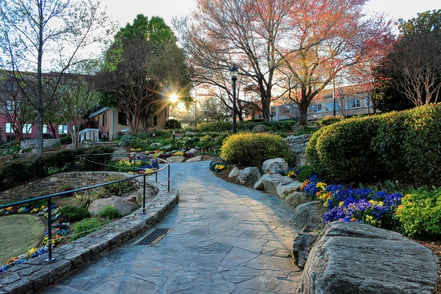 Many retirees express an interest in senior living communities. They are often delighted to learn that Greenville is home to several exceptional examples. Residents can live in a secure community that integrates active adult living, assisted living, skilled nursing care, rehabilitation, and memory care.
There's no shortage of amenities, either. These typically include housekeeping services, complimentary local transportation, walking paths, fishing lakes, multimedia events, fitness centers, and more. Best of all, even the costs of these quality-of-life enhancements are low in comparison with many other cities, as well.
For those inclined to keep sharper mentally, state-funded college tuition is free for residents who are 60 years old and beyond. Several colleges and universities surround Greenville, including Clemson University, Furman University, Bob Jones University, and the University of South Carolina Upstate Greenville Campus.
At the same time, the Metropolitan Arts Council (MAC) is ready to be your gateway to Greenville's vibrant artistic side. As a hub for organizations of all sizes shaping local arts and culture, MAC exists to stimulate and support Greenville's thriving arts scene.
If you'd like to know more, Global View Investment Advisors can show you the most tax-savvy ways to allocate your wealth among diversified taxable, tax-deferred, and tax-free assets. We can also recommend preferable ways to sequence your income streams once you're here.
We're well-versed in such matters because we are both fiduciary investment advisors and financial advisors in Greenville, SC. Contact us to learn more.