"Have the prices of goods and services peaked yet?" If it feels like you're looking around in confusion, asking this same question as inflation continues to soar, investment advisors in Greenville, SC, have some answers. If you're a concerned individual trying your best to enjoy your golden years while stretching your retirement money, this article should help.
The not-so-good news is that the Consumer Price Index (CPI) jumped to 8.5% annually as of March 2022 (up from 7.9% in February). The hopeful news is that the Federal Reserve is doing something about it by planning for a considerable half-point interest rate hike in early May.
Unfortunately, inflation has topped new 40-year highs for five months in a row. However, there are ways to protect your nest egg as you progress on the glorious road to retirement—don't lose hope.
Is there a need for you to be concerned?
Since inflation is known to affect retirees more than anyone else, reassessing your retirement savings can be highly beneficial. There's no need to be concerned about rising inflation if you have proper wealth management that accounts for it, as well as the cost of living, tax planning, retirement income, investment strategy, and overall retirement plans.
If you are a resident of Greenville, South Carolina, and do not yet have a dedicated financial advisor, it's time to reach out for that support. For those migrating to the Carolinas, there are many things to know to support your smooth financial transition. Certified financial planners in Greenville, SC, will make sure you are well aware of all financial aspects that impact you and your financial goals.
Is your financial plan set up for inflation or uncertain times?
Since the value of the dollar tends to decrease while prices increase during high inflation (usually followed by rising interest rates to put out the fire), you need a plan that supports your financial needs in such high maintenance conditions. The last thing you need is to tap into your retirement savings that may be sitting stagnant.
Although retirement savings look different for everyone, many retirees have cash in a savings account or investments held in a retirement account, like an IRA or 401(k). The downside is that some of them don't know the best practices to avoid paying extra taxes. Could some of these be useful elsewhere to potentially grow your wealth?
What we do know is that retirees with money in diversified portfolios or retirement accounts are better prepared to weather the storm of high inflation (but is it even a storm?). And since stocks have historically outpaced inflation over long periods, this also tells us that investments like ETFs, mutual funds, or others with a reasonable stock allocation are less likely to lose value as inflation rises.
How to adjust your plan and what you should do.
Because stocks can be volatile, retirement planning usually involves moving assets out of stocks and into safer channels as you approach retirement. That's why a majority of retirees are nesting on mostly cash or fixed-rate investments, like CDs and bonds.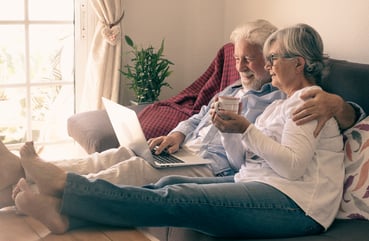 If you are on a tight monthly budget and you are forced to draw down faster on your savings than planned, you might not have enough to cover costs down the retirement road. While there are no inflation hedge commandments to live by, here are a few common methods to help protect your retirement savings from inflation.
Cut back where you can afford it.
It will be worth cutting back on discretionary spending as inflation has no end in sight. Of course, it will taper off, but economists can only predict when—and all predictions vary from a few months to a couple of years. Since no one can predict the financial future, it can pay to hold back on purchases.
Think about buying Series I Savings Bonds.
Offered by the U.S. Treasury, I-bonds (for short) keep up with inflation. The Treasury announced a 7.12% interest rate for I-bonds for the record through April 2022. Comparing this to high-yield CDs and savings accounts that offer less than 1.5% annual interest rates is pretty good. If you're sitting on a pile of extra cash, this should sound extra enticing, as it's very safe.
Stay mindful of healthcare costs.
According to Fidelity, the average 65-year-old couple will need around $300,000 to cover medical expenses, which does not account for long-term care or dental needs. Since Medicare doesn't begin until 65, you will need to bridge that gap if you retire before then. It will help to discuss retirement health insurance with a financial advisor in Greenville, SC.
Find avenues to generate extra income.
Consider what you love doing and look for part-time job options to make some money doing what you enjoy. Maybe you can turn your hobby into a career. With the many work-from-home positions available, there might be a similar line of work for you to pursue.
Read: How Inflation Affects Social Security, Medicare, and Taxes
What is the best way to protect your retirement savings from inflation?
If your guess is to hire a financial advisor for careful portfolio management, you are 110% correct. It is more than likely time to reassess your risk tolerance and time horizon to devise a plan of action that rebalances your assets. Remember, diversification is critical, and it pays to obtain professional financial services you can trust—the tricky part is figuring out who to trust.
No matter who you feel most comfortable with, make sure a financial advisory firm is experienced working with individuals like you. Read about who we serve to get a good idea of our clients—you can trust us!
Here's how inflation factors into your retirement plan.
At Global View, we are a fee-only, fiduciary, full-service, financial advisory firm in Greenville, SC serving clients across the country. We provide independent, conflict-free advice and complete wealth management services, so you can feel protected and keep growing the wealth you've accumulated over your lifetime.
Contact our team to see how we can help. We look forward to meeting you!