You're not alone if you are considering retiring in the Carolinas. U.S. Census Bureau 2018 data concerning retiree net migration placed North Carolina "the Tar Heel State" third in the nation and South Carolina "The Palmetto State" fifth.
It's not surprising that the sister territories rank so closely together, as both offer warm climates, attractive beaches, and a below-average cost of living. Since South Carolina is more tax-friendly than its northern neighbor, this may sway your choice between the two. Let's see what SC has to offer.
Are you currently planning to retire in the Carolinas? Use this retirement planning guide if getting a late start.
Retirees and Taxes in South Carolina
South Carolina offers a handsome set of tax breaks to retirees. Let's start with a shortlist of reasons to begin digging into the benefits:
The state does not tax your Social Security benefits.
If you're a senior 65 or older, you can exclude up to $10,000 of retirement income.
Seniors can deduct other taxable income: $15,000 for individuals and $30,000 for joint filers.
Seniors can exclude up to $30,000 of military retirement income (not counted toward the $10,000 retirement income exclusion).
SC property taxes are relatively low, with the country's sixth-lowest median rate ($545 per $100,000 of assessed value). Moreover, seniors can exempt the first $50,000 of their home's fair market value from property taxes.
Note: you must have resided in the state for one year (as of December 31 of the preceding tax year) to claim the exemption.
Perhaps the only downside is the South Carolina tax picture is the 3% to 7% state income tax. In 2022, the top rate applies to income above $16,040. You'll be happy to know that the state does not impose an estate or inheritance tax.
As with most states, South Carolina and its localities collect sales taxes, but groceries and prescriptions are among the tax-exempt categories.
Read: What You Need To Know About SC Tax Law Changes for 2022.
Best Retirement Destinations in South Carolina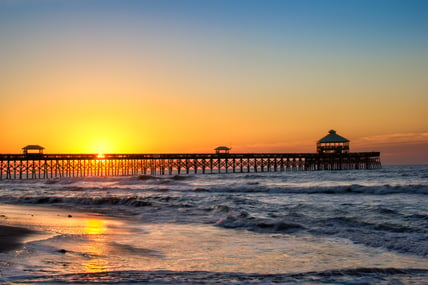 A recent survey from NewHomeSource lists its top ten SC retirement destinations:
Newberry
Greenwood
Orangeburg
Gaffney
Sumter
Irmo
Spartanburg
Cayce
Anderson
West Columbia
These rankings reflect home prices, violent crimes, property crimes, and access to hospitals, among other variables.
A separate report named Greenville, SC, the 10th best city in the country for safety and health care for seniors. Our Greenville-based Carolina retirement planners know first-hand the many advantages of living and working in Greenville. The city has a bustling economy, a vibrant food scene, widespread availability of healthcare systems, and plenty of recreation and entertainment venues (including a symphony orchestra).
Many retirees prefer to live on the coast in cities and towns such as Charleston, Myrtle Beach, Isle of Palms, Folly Beach, and so many more. It would be hard not to find a great retirement destination in South Carolina.
Curious How Inflation Factors Into Your Retirement Plan? Read this article.
Avoiding the Retirement Blues
After a professional career that has provided satisfaction, wealth, and a sense of identity, you may worry that retirement will be, well, boring or may feel empty. Perhaps that was once so, but that notion is outdated.
Instead, most seniors want to engage in meaningful activities after retirement. Planning for your retirement interests should begin well before leaving your job. A personalized financial plan can help you prepare for your new lifestyle without missing a beat. Here are some suggestions to consider as you mull over your retirement way of life.
Cultivate a hobby.
It can be challenging to pursue a hobby while working full-time. Retirement, full or partial, creates the opportunity to dive deep into something you love. Maybe you'll want to spend time doing photography, cooking, gardening, woodworking, reading, cycling, or any of a thousand different interests.
Beyond engaging your mind, hobbies can reduce stress, support better fitness, lower your blood pressure, and perhaps even prolong your life. Whether or not a leisure activity increases your longevity, it will make your life more exciting and fulfilling.
Develop a business plan.
Many seniors don't want to stop working, even after retiring from their primary job. You can pursue business interests in several ways. For example, you can become a consultant or contract worker, an educator, or even a small business owner.
If you've longed to be your own boss, enjoy the challenge of entrepreneurship, or simply want to earn additional retirement income, a new career can engage you in an emotionally fulfilling way. A professional planner can help you work out the financial logistics while monitoring your retirement nest egg.
Seek a part-time job.
Perhaps all you want is to socialize in a place where you can earn some extra income. Seasonal and part-time jobs abound in the Carolinas. The current labor shortage makes it easier for you to be picky about part-time work.
Some may want to work from home, joining the millions of Americans who now do so in the COVID-19 era. Others may wish to engage in work away from home to personally interact with others, get a change of scenery, and perhaps engage in physical activities to help keep fit.

Travel the world.
Tourist destinations around the globe are clamoring for more customers after the last two years of lockdowns. Now is a great time to travel while stretching your money through the many special deals available. Everything from cruises to package tours has come down in prices.
Go nautical.
You can finally devote the time to learn how to sail a boat or operate a cabin cruiser or yacht. A fishing boat can provide many years of enjoyment, challenge, and delicious eating. If you've been fortunate enough to amass wealth, consider taking lessons and acquiring a vessel.
The South Carolina coast is a convenient launch point for sailing up and down the East Coast and into the Caribbean.
These are just a few of the many solid ideas to pursue when you retire from your career. For many of you, your only limitation is your imagination.
How an Advisor Can Help You Succeed in Retirement
A financial advisor has much to offer to make your retirement a breeze. Your trusted wealth partner will help:
Allocate your assets to reduce the risk of loss
Budget for the post-retirement lifestyle you desire
Plan your charitable giving
Create an estate plan to ensure your assets go where you want
Keep you from overpaying taxes
Take the Next Step
Contact our firm today for top-quality retirement planning in South Carolina or North Carolina if preferred. Schedule a no-obligation conversation with the Global View team to see how we can help. Your golden years should be as fulfilling as possible, so why leave the future to chance?
Choose to work with Global View for a brighter future. Check out our quick guides for more information.
Take us for a test drive in setting your path to retirement.
Download our complimentary retirement eBook to help you plan your retirement with ease. View more eBooks here.